Home

Donate!

Articles
CHAT!
Shop
Welcome to Spiritual Forums!.

We created this community for people from all backgrounds to discuss Spiritual, Paranormal, Metaphysical, Philosophical, Supernatural, and Esoteric subjects. From Astral Projection to Zen, all topics are welcome. We hope you enjoy your visits.

You are currently viewing our boards as a guest, which gives you limited access to most discussions and articles. By joining our free community you will be able to post messages, communicate privately with other members (PM), respond to polls, upload your own photos, and gain access to our Chat Rooms, Registration is fast, simple, and free, so please, join our community today! !

If you have any problems with the registration process or your account login, check our FAQs before contacting support. Please read our forum rules, since they are enforced by our volunteer staff. This will help you avoid any infractions and issues.
| | |
| --- | --- |
| Self-refuting arguments | |
15-02-2018, 12:14 AM
Master

Join Date: Dec 2015

Posts: 1,447
Quote:
Originally Posted by Gem
The meme in the OP is interesting because the first fellow puts forth a 'wise truism' and the second fellow points out that it is, in itself, a belief - but if the first fellow agrees with the second, then that is consistent with his original statement, but if he agrees the second fellow right, then it is inconsistent.
Yes it is very funny
which apparently makes it against site rules
haha
__________________
I am the flower, the tree, the vine. I am the path
28-02-2018, 05:28 AM
Master

Join Date: Nov 2015

Posts: 8,514
This thread is fun...time for my 10 cents: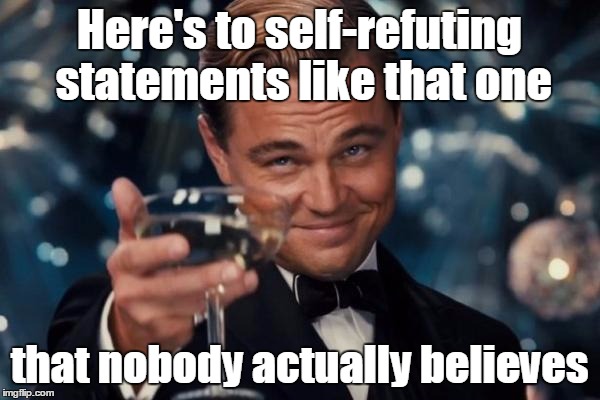 | | |
| --- | --- |
| Posting Rules | |
All times are GMT. The time now is
11:55 PM
.